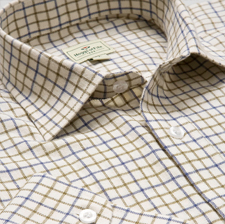 Pure Cotton Tattersall Check Shirts
Superior 100% ultra soft brushed cotton fabric
Smart classic collar shape with non-fused woven interlining & fixed collar stiffeners
16-stitches/inch construction for sharp and strong seams throughout
Front Placket with 7 pearlised Hoggs-branded buttons (spare button supplied)
Split yoke to shoulders and 2 rear pleats for a superior tailored fit
Extra long drop tail to ensure shirt stays tucked in
Reinforced gusset at base of side seams, between front & back panels
Plain and elegant open breast pocket
Machine Washable at 40° C

Dark Brown/Gold/Navy - Wine/Blue/Green - Tan/Navy/Green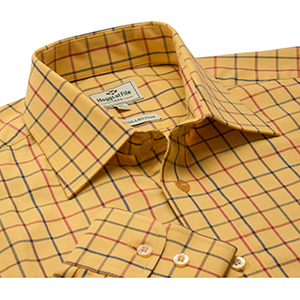 Governor Premier Tattersall Shirt
Superior 100% pure cotton twill fabric
Smart classic collar shape with non-fused woven interlining & fixed collar stiffeners
16-stitches/inch construction for sharp and strong seams throughout
Front Placket with 8 pearlised Hoggs-branded buttons (spare button supplied)
Double-button interlined cuffs with buttoned gauntlet
Split yoke to shoulders and 2 rear pleats for a superior tailored fit
Extra long drop tail to ensure shirt stays tucked in
Reinforced gusset at base of side seams, between front & back panels
Plain and elegant open breast pocket
Machine Washable at 30° C
Other checks available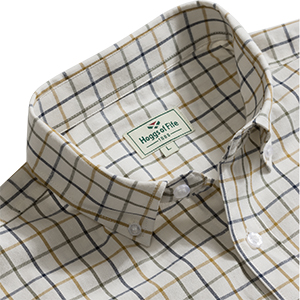 Short Sleeve Tattersall Shirt
Superior 100% ultra soft brushed cotton fabric
Button-down collar
16-stitches/inch construction for sharp and strong seams throughout
Front Placket with 7 pearlised Hoggs-branded buttons (spare button supplied)
Split yoke to shoulders and 2 rear pleats for a superior tailored fit
Extra long drop tail to ensure shirt stays tucked in
Reinforced gusset at base of side seams, between front & back panels
Plain and elegant open breast pocket
Machine Washable at 40° C

In stock now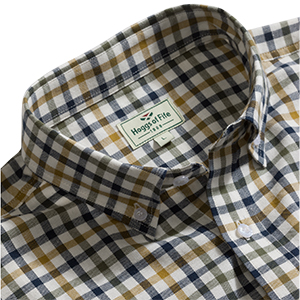 Short Sleeve Checked Shirt
Superior 100% ultra soft brushed cotton fabric
Button-down collar
16-stitches/inch construction for sharp and strong seams throughout
Front Placket with 7 pearlised Hoggs-branded buttons (spare button supplied)
Split yoke to shoulders and 2 rear pleats for a superior tailored fit
Extra long drop tail to ensure shirt stays tucked in
Reinforced gusset at base of side seams, between front & back panels
Plain and elegant open breast pocket
Machine Washable at 40° C

In stock now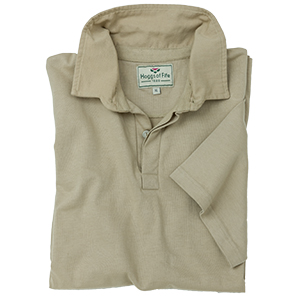 Short-sleeved Rugby Shirt
Heavyweight 100% jersey cotton fabric for unrivalled durability and warmth
Aimed at young farmers and countrymen generally for work and leisure wear
Deep front 2-buttoned placket for ease of putting on and removing
Rubberised buttons which will not crack or chip
Short sleeve
Generous shirt length at both front and back with vented side seams at hem
Generous sizing for maximum wearer comfort
Subtle embroidered Hoggs of Fife branding to rear yoke
Machine Washable at 40° C
In Stock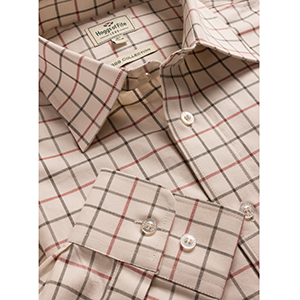 Laird Premier Tattersall Shirt
Superior 100% pure cotton twill fabric
Smart classic collar shape with non-fused woven interlining & fixed collar stiffeners
16-stitches/inch construction for sharp and strong seams throughout
Front Placket with 8 pearlised Hoggs-branded buttons (spare button supplied)
Double-button interlined cuffs with buttoned gauntlet
Split yoke to shoulders and 2 rear pleats for a superior tailored fit
Extra long drop tail to ensure shirt stays tucked in
Reinforced gusset at base of side seams, between front & back panels
Plain and elegant open breast pocket
Machine Washable at 30° C
Available in 4 country checks

In stock now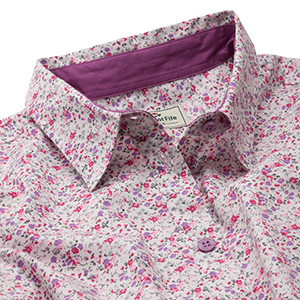 Bella Ladies Floral Shirt
Attractive small floral patterned shirt in 100% brushed cotton with co-ordinating lavender trim.
Exclusive Hoggs of Fife design
100% gently brushed cotton
Contrast Lavender trim to inside collar and cuffs
Semi-fitted
Sculpted hem - can be worn tucked in or not
Co-ordinating coloured buttons

In stock now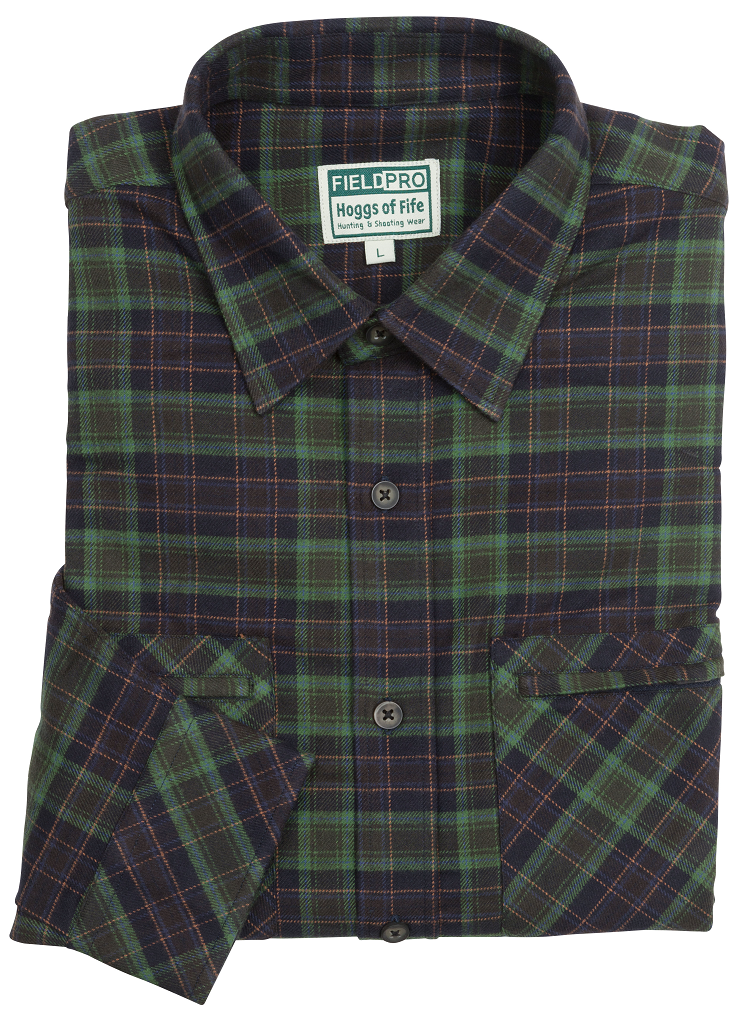 Arran Luxury Hunting Shirt
Hoggs of Fife Arran Luxury Hunting Shirt is a luxuriously warm and soft flannel cotton men's' country shirt in an elegant plaid design. This men's shirt is a comfortable relaxed fit to allow for freedom of movement when shooting and being active. The Arran shirt has lots of useful features including a long tail to ensure you stay tucked in, two chest pockets with zips for security and finished off with horn effect buttons for in authentic country look.
Available in Navy/Green check in sizes: S - 2XL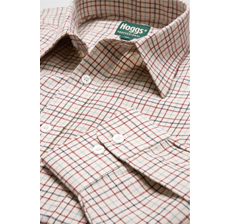 Poly/Cotton Country Check Shirts
Soft, brushed easy-care 65% polyester / 35% cotton fabric
Classic collar shape with interlining and fixed collar stiffeners
16-stitches per inch construction for crisp and strong seams
Front placket with pearlised Hoggs-branded buttons
2-stage adjustable buttoned and interlined cuffs
Deep breast pocket with buttoned flap
Long tail, front and back, to ensure shirt stays tucked in
Machine washable at 40° C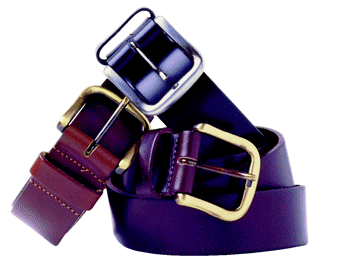 Belts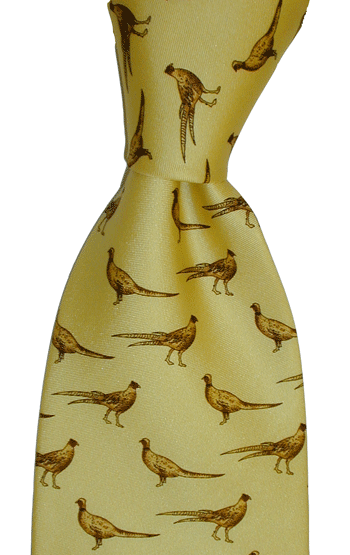 Ties

Braces