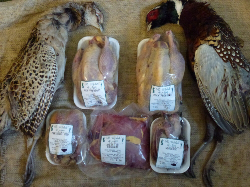 Pheasant with Noodles and Horseradish Cream Recipe
Ingredients:
75g (3oz) Butter
4 Pheasant Breasts
4 Shallots, chopped
1 Clove of Garlic
2 Tablespoons, Creamed Horseradish, or 1 tbs Strong Horseradish, grated
Juice of ½ Lemon
150ml (5fl.oz), Double Cream
1 pkt Black or Green Italian Noodles
Small bunch of Parsley Chopped
Salt & Pepper
Method:
Heat the butter in a heavy frying pan and sauté the pheasant breasts until they are sealed. Remove them and sauté the shallots and garlic until the shallots are pale gold; remove and discard garlic clove.
Stir horseradish into shallots and add a tablespoon of water and the lemon juice. Season. Return pheasant breasts to pan, add cream and cover and cook gently for 15 - 20 minutes, or until breasts are just cooked. If sauce is too thin, remove breasts and increase the heat to reduce; if it's too thick, add a little more cream or some dry white wine.
Cook noodles according to instructions and drain.
Serve noodles with pheasant and sprinkle chopped parsley on top..
Recipe available as a PDF HERE

---
Young Grouse Recipe
Young Grouse with Berries.
The Juices from the Grouse and the Berries mixed together - along with some Brandy - makes a delicious sauce!
Ingredients:
2 Young Grouse
8 Rashers of unsmoked Bacon
Juice of ½ a Lemon
4 Tablespoons of Raspberries
2 Tablespoons of Brandy
Salt & Pepper
Method:
Pre-heat the oven to 2200C/4250F/Gas Mark 7. Mix the salt, pepper and lemon juice together then rub all over the inside of the birds. Spoon the berries inside and wrap the grouse in bacon, taking extra care to cover the breasts. Place the grouse in a roasting tin and cook in the oven for 20 minutes.
Remove the bacon then roast in the oven for a further 10 minutes. Remove the birds from the roasting tin for carving.
Place the tin with it's juices (of which there will be plenty), over a medium heat and add the brandy. Allow the liquid to bubble gently for a minute then spoon the gravy over the grouse.
Serve with mixed roast vegetables and game chips.
Recipe available as a PDF HERE

---
Pot Pheasant Recipe
(suitable for mature birds)!
Ingredients:
1 Brace of Pheasants (2 birds for the uninitiated)!
2 Dessert Apples - peeled, cored and sliced.
3 Sticks of Celery, chopped.
1 Finely sliced Onion.
¾ pint of stock.
1 Glass of White Wine.
½ pint of Single Cream / Natural Yoghurt.
1 Tablespoon of Cornflour
Salt & Pepper.
Celery Leaves for decoration.
Method:

Put Pheasants - breasts down - in a casserole. Add the Apples, Celery and Onion, then pour the Wine and Stock over them. Simmer for about 1½ hours or until birds are tender.
Remove birds to a warm plate, liquidise remaining sauce; blend Cornflour into the sauce, return to the casserole and bring slowly to the boil until the sauce thickens. Add the Cream / Yoghurt and season to taste.
Carve the Pheasants, spoon sauce over the meat, decorate with Celery leaves and serve.
Recipe available as a PDF HERE
---
Roast Partridge Recipe
(Serves 4) - Preparation Time: 10 mins. - Cooking Time: 30 mins.
Ingredients:
4 Partridge, ready prepared.
4 Sprigs fresh thyme plus a few leaves.
12 juniper Berries.
Salt & freshly ground Pepper
8 slices Streaky Bacon
Mix of butter, Olive Oil for basting.
Selection of wild & exotic Mushrooms
Olive Oil
To Serve:
Braised Cabbage
Mashed Potato
Method:
Pre heat oven to 2000C/4000F/ Gas mark 6
Place 1 sprig of thyme, 3 juniper berries in the cavity of each bird and season with salt and pepper. Tie the legs together with string before cooking.
Spread softened butter and oil over the birds and place a rasher of bacon on each breast. put in a roasting pan and cook for 30 minutes. To check the birds are cooked , pierce with a skewer between the leg and breast. They are ready when the juices run clear.
Pour some of the juice into a small saucepan and keep on a low heat. In the meantime heat a little olive oil and sauté a selection of wild mushrooms.
Put the mushrooms on the plat together with the partridge and crispy bacon. serve with a little of the heated juice, braised cabbage and mashed potato.
Tip:
For a Mediterranean twist, serve with cous cous and stir fry vegetables
(Nice with good quality apple as well)!
Recipe available as a PDF HERE
---